CLOWN Gold Coast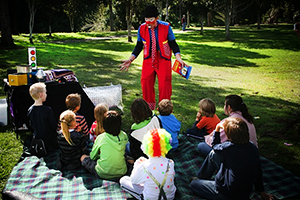 Don't invite just any clown to your birthday party!
Meet Oska the clown, our resident party clown. Oska is one cool kids entertainer. Oska the clown has been clowning around for over 17 years. Trained by Sydney's leading clown provider, Oska the clown is the perfect entertainer for children that love fun, kids parties, loudness and laughter. Oska the clown thinks he is the coolest kids party clown Gold Coast has in town and loves calling the party kids 'groovers'.
Oska's special talent is his clown magic show that has everyone in stitches and amazement. Not only is he a fantastic childrens magician, he is also a great face painter and balloon sculptor. The ultimate Gold Coast clown perfect for kids parties.
Renown as the coolest clown Gold Coast has seen for a long while, Oska the clown just loves children's birthday parties or any event where cool Gold Coast kids will be. Invite Oska the kids party clown or one of his clown friends to your next kids birthday party, promotion, special event or childcare centre.
When looking for a clown for party Gold Coast has very few options, most scary looking. The Magic Castle Gold Coast clowns are non-threatening, non-scary clown characters that will win the kids over every time. Our clowns can minimise their face paint or costume to avoid the possibility of little ones getting upset.
Stop that frown – Get a Gold Coast clown!