SUPER HERO PARTIES Gold Coast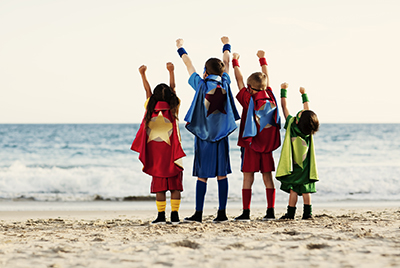 Calling all Gold Coast comic book super heroes – you are required for the next. No super hero party is complete without a visit from the kids favourite superhero lookalike from their favourite comic book or superhero movie. Do you want a stress free time at your child's birthday party? Invite a Gold Coast super hero entertainer lookalike of your choice to the childrens birthday party and watch them save the day.
Imagine a Gold Coast super hero party where the kids birthday party guests can show off their inner strength and super powers from their favourite comic book. To help the birthday party kids find these powers our Gold Coast entertainers can make them a super cool balloon twisting sword to help fight off the evil enemies.
The party kids can also choose from a great range of balloon animals including sharks, dinosaurs, bunny rabbits, monkeys and more. All the kids party guests enjoy receiving a balloon from their favourite Gold Coast superhero or comic book villain.
No Superhero Gold Coast kids birthday party is complete without our interactive Gold Coast kids magic show. Our party entertainers can perform our ultra amazing Superhero Magic Show to excite and entertain the kids (and adults) at your next kids superhero party. Want more? We also offer face painting for your Gold Coast superhero party and even superhero games, prizes and magic.
Contact The Magic Castle Gold Coast to find our which Gold Coast superhero or comic book characters are available for your next children's birthday party.
The Magic Castle Gold Coast states that, for trademark reasons, these are lookalikes of cartoon characters and are not the 'real' cartoon mascots or cartoon characters that you could see in the theme parks, movies, and cartoons.